Multitest and Multitest Plus
Mobile test device for static testing of masks, lung-governed demand valves as well as totally encapsulating suits. Low pressure gauge +/− 30 mbar. The extended version Multitest Plus additionally has a medium pressure gauge of 0–15 bar. The extended version Multitest Plus-HP has a high pressure gauge additional. Ideal for small and medium size workshops or as a supplement to stationary equipment.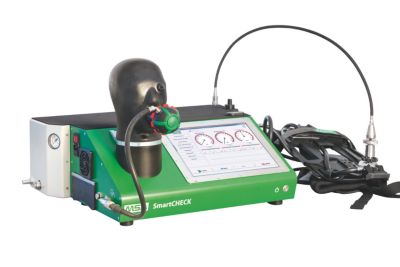 SmartCHECK
SmartCHECK is a modular, compact and fully automatic test bench for any SCBA equipment on the market today. This device is the easiest, most dependable way to test full face masks, lung-governed demand valves, compressed air breathing apparatus and chemical protective suits according to EN and local standards.   A specially designed test head ensures easy handling and the tight fit of full face masks. It features an integrated computer system with touchscreen. The system software TecBOS.Tech includes a testing Wizard, an intelligent assistant that allows intuitive operation. The user is guided through the smart test-process step by step.